Coming Up:

Friday, December 14th — Chris Kermiet with Deb Carstensen, Rodney Sauer, and Ed Secor.
7:30 - 10:30 p.m. — Adults $10, Teens/Students, $6, Family rate, $25.

English Country Dance was the world's longest-running dance craze.  They were immensely popular from 1630 to 1830, as seen in Pride & Prejudice and Sense & Sensibility (the Jane Austen novels, and the movies based on them).  All are invited – no partner or previous experience needed.  There is no lesson, and figures are taught as needed.  Easier dances at the beginning of the evening lead up to more elegant and graceful dances by the end of the evening. 
---
if you'd like to be on our mailing list and get an email reminder about upcoming dances.
---
Also Coming Up!
The 33rd Annual Winter Solabration!
A Community Celebration of Music and Dance!
Saturday, December 22nd, 6:00 to Midnight, at the Joyful Ballroom, 3695 W. 72nd Avenue in Westminster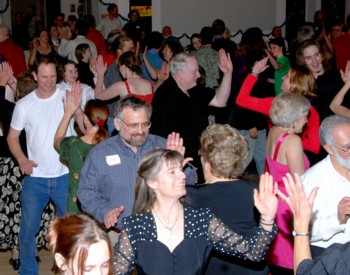 featuring a Mummer's Play, the Maroon Bells Morris Dancers, the Solstice Sword Dancers, Breathless in Berthoud, Mudra (Indian Dancers), Bryan Connolly Extreme Juggling, Storyteller Susan Marie Frontczak, the Abbot's Bromley Horn Dance, and More!
Great dance music will be provided by Balance & Swing with callers Chris Kermiet, Patricia Danscen, & Tina Fields.

Join us for an evening of traditional American community dances and great holiday entertainment.

Tickets & more information at wsolstice.org, or check out our Facebook Page.